Confetti Crispo takes part to the 22nd edition of Gulfood Festival, the annual greatest food & beverage festival around the world.
Read more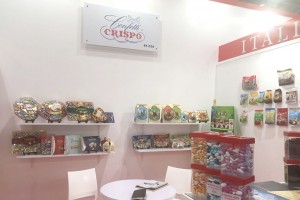 The ISM in Cologne is opening from January 29th until February the 1st 2017. Among the 1,600 exhibitors from around 70 countries, there will be also Confetti Crispo.
Read more

Vip increasingly personalize their weddings offering confettate invited VIPs made ​​in our products. CiocoPassion, Snob, Licorito and many other lines of confetti ready to customize and celebrate every party and event.
ConfettiCrispo on facebook
Luci soffuse, magiche atmosfere…questa confettata realizzata da Rossella Di Chiara & Alessandra De Angelis-Love Events con confetti #Crispo..
✨ Novità #Crispo 2017 ✨ Nuovissimi #Ciocopassion assortiti! Perchè scegliere solo un gusto? Cinque gusti in cinque incantevoli sfumature..