"Confetti Crispo", leader in confetti production, looks at the future, showing great care for quality and community wellness on one hand, but also for the improvement of its factories' performances, in terms of efficiency, environment, health and security.
Read more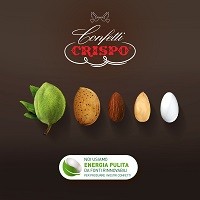 Vip increasingly personalize their weddings offering confettate invited VIPs made ​​in our products. CiocoPassion, Snob, Licorito and many other lines of confetti ready to customize and celebrate every party and event.
ConfettiCrispo on facebook
Il 2017 è stato un anno ricco di novità per il catalogo Confetti Crispo ✨ Scopritele presso i nostri rivenditori Video: Mario Coppola
Sarai una #sposa nel 2018? ✨ Nel nostro nuovo articolo tanti consigli su tutte le novità Confetti Crispo per realizzare una confettata da..