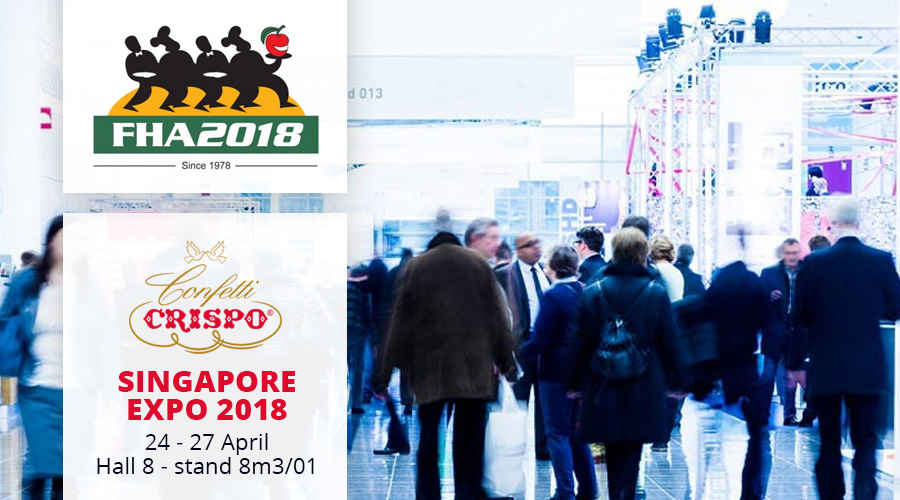 Confetti Crispo at FHA – Singapore Expo 2018
26 April 2018
---
Confetti Crispo, leading company in the production and sale of dragées and confectionery, strictly made in Italy, is pleased to announce its presence at FHA 2018 (Food & Hotel Asia): the largest Asian fair for F&B and hospitality sector.
FHA will be an exclusive event welcoming the best experts in the field of F&B and hospitality from 100 different countries, ready to show their products and services. The fair is taking place in Singapore, where over 78,000 merchants will occupy the fair's 119,500 sq m.
The event, which has taken place every two years for over 40 years, has recently grown further and gained a significant role inside and outside the Asian continent, by promoting the most original innovations in the areas of F&B and hospitality.
The fair will also host congresses, cooking competitions, workshops and exhibitions to create the formula for a unique experience. Confetti Crispo participates in the FHA 2018 representing the quality of Made in Italy worldwide, exhibiting the delicious new products in its catalog and the evergreen items that have make Confetti Crispo one of the most valid models in Italian Food industry.
Where : Singapore Expo Hall 8 – Stand 8M3 / 01
When : April 24th to 27th from 9 am to 4 pm